The Jews have a rich history in Cyprus that dates back to the 2nd century BC when a significant number of Jewish people were first recorded on the island. Throughout the centuries, the Jews of Cyprus have had close relationships with many of the other religious groups and were seen favorably by the island's rulers. 
During the Ottoman Era from 1571-1878, the Jewish community of Cyprus thrived due to the influx of Sephardi Jews from Ottoman lands, who had emigrated after their expulsion from Spain in 1492. Famagusta became the main center of the Jewish community in Cyprus.
With the end of World War II, Cyprus became a significant destination for Jewish refugees and survivors of the Holocaust who sought to immigrate to the land of Israel. Thousands of survivors and refugees sought to emigrate to Israel to rebuild their lives and were detained in internment camps in Cyprus by the British Mandate authorities, who ruled the land of Israel at the time.
The detention camps were located in cities such as Limassol, Nicosia, Kyrenia, Larnaca, and Famagusta, as well as in summer camps such as Dhekelia, Xylotymbou, and Karaolos. The number of Jews who were detained in these camps between 1946 and 1949 was 52,384, with an additional 2,000 children born in the camps. The Jewish refugees were led by the Chief Rabbi of the camps, Yehoshua Mendel Ehrenberg, who was dedicated to ensuring Jews in the camps had all their religious and spiritual needs met. Despite the difficult conditions in the camps, the detainees organized schools, kosher slaughtering (shechita), circumcisions, synagogues, and cultural events, and even published their own newspapers. 
The detention of Jewish refugees in Cyprus sparked a significant international debate, with various groups advocating for their release and resettlement in Israel. The British government eventually relented, and in August 1949, the last of the Jewish detainees were allowed to immigrate to Israel.
Today, the Jewish population in Cyprus is rapidly growing with approximately 3,000 families as of 2023. 
Thanks to the establishment of the Chief Rabbinate of Cyprus in 2003, new synagogues, and growing availability of kosher-certified food, more Jews from Israel and the rest of the world choose to relocate to Cyprus.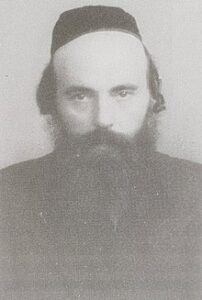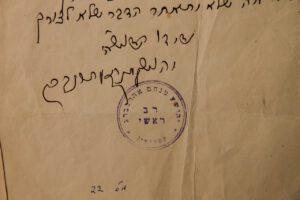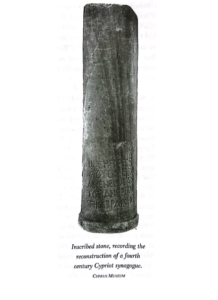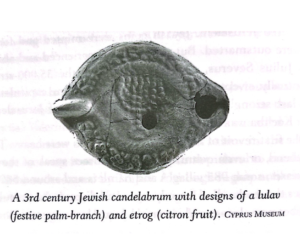 Archeological Jewish artifacts found in Cyprus from the 3rd and 4th centuries CE (Cyprus Museum)